Fissures and cavities filled ruby with lead-based glass started to appear on the market at the beginning of 2004. Low quality ruby containing many fissures or fractures is used to be filled with lead-based glass that has similar RI with the ruby so that the apparent clarity of the stone will be improved (photo 1). (Please refer to Gemmology May 2004 and February 2005 issues for
more detail.
)
According to a report by Gem Research Swiss Lab (
http://www.swisslab.net
), another type of fissures filled ruby with bismuth-based lead has been spread on the market in Thailand since August 2007, and the bismuth lead filling seems to have succeeded in improving the apparent clarity similar to lead glass.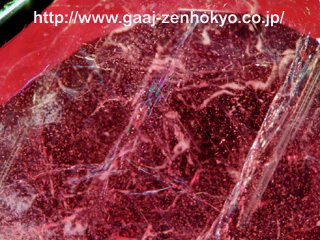 | | |
| --- | --- |
| Photo.1: | fissures and cavities filled ruby with lead-based glass |
An emergency report on a new filling process was released by Prof. Pornsawat Watanakul, who is a technical advisor of GIT laboratory in Bangkok, Thailand, at the LMHC-New York meeting in October 2007. According to the professor, in Chanthaburi region, blue sapphires called "Super Diffusion Tanusorn" are currently circulated widely. This blue sapphire is produced by filling lead-glass that has been coloured in blue by mixing cobalt metal into a corundum (photo 2), and the name "Tanusorn" takes after the name of a person who developed this treatment.
| | |
| --- | --- |
| Photo.2 | blue sapphire called "Super Diffusion Tanusorn" in Thailand |
The professor discussed with the local heat treaters on the process of this new treatment and gained the information as follows so far.
Colourless or brownish Geuda rough stones from Madagascar or Sri Lanka, which have non-basaltic origin, are separated according to their colour, clarity or internal features before they are going to be heated. At this stage, low quality corundum containing plenty of fissures, fractures or twinning planes are removed to avoid damage by heating. The rejected low-quality rough stones are soaked in strong acid solutions such as hydrogen fluoride, nitric acid or aqua regia to remove impurities or organic substance on the stone surface. After this chemical cleaning, the pale-coloured corundum is heated together with lead glass that has been mixed with powdered cobalt metal or cobalt oxide. During this process, the lead glass coloured in blue is filled in fissures, fractures or twinning planes.
These fissures filled sapphires in new process are reportedly sold in very low price in the local market (several dollars per carat).
This time, by courtesy of Prof. Pornsawat Watanakul, we obtained eight pieces of new type treated sapphire. The features with photos are introduced below.
<General Features>
This new type of treated sapphire displayed blue colour as shown in the photo 3-a, but the colour appeared violet-blue or pink-blue (photo 3-b) under a strong fibre optic light. The eight pieces tested this time ranged from 1.400 to 2.892 ct. They were transparent to translucent material with abundant fractures, cracks and twinning planes developed inside (photo 4).
| | |
| --- | --- |
| Photo.3a: | blue sapphire displaying blue colour, which is produced by filling of cobalt-coloured lead glass |

| | |
| --- | --- |
| Photo.3b: | violet-blue`pink-blue colour induced by a strong fibre optic light |

| | |
| --- | --- |
| Photo.4: | fractures, cracks and twining planes included in treated sapphire |
Their RI, DR and SG were almost identical to those of general blue sapphire and they were inert under both long and short wave UV lights. They displayed vivid red colour typically seen in cobalt-coloured blue stones through a colour filter. On a hand-held spectroscope characteristic three absorption bands were recognised between red and green on a spectrum.
Under magnification, no silk inclusions or colour zone that were generally seen in corundum were observed, but only fluid inclusions or liquid-film inclusions were recognised. In the abundant fractures and cracks, glassy filling material that were displaying blue to violet colour was readily recognised (photos 5-a, and b). No flash effect was seen but interference colours due to reflection from filling material were observed (photo 6). Gas bubbles trapped in fractures or twinning planes were also seen. In observation with reflected light, the reflectance ratio of surface-reaching filled fractures was slightly less than that of corundum (photo 7).
| | |
| --- | --- |
| Photo.5a,b: | cobalt coloured lead glass observed in fractures, cracks and twinning planes |

| | |
| --- | --- |
| Photo.6: | interference colours due to reflection from the surface of filled glass |

Photo.7:

the reflectance ratio on the surface of filled
fracture is lower than that of corundum
To confirm the degree of the filling we performed an X-ray test. Many white streaks in high contrast can be seen, which correspond to distributed surface reaching fracture and twin plane developed in sapphire (photo 8).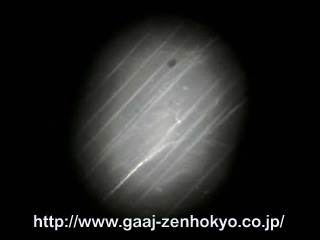 | | |
| --- | --- |
| Photo.8: | radiograph figure |