Methods
Data on 85 samples, that have been identified as either taaffeite or musgravite (at the time of this presentation), were accumulated and analysed at GAAJ laboratory. All the samples were subjected to observation by standard identification techniques and analysis by Raman spectroscopy (using RENISHAW RAMA-SCOPE SYSTEM1000B with 514nm Ar laser as an exciting laser) and X-ray fluorescency (using EDXRF JSX3600). Two pieces of them were further analysed by X-ray powder diffraction method with SHIMADZU X-ray powder diffractometer XRD-6000).
Identifying Features
RI and SG values of the two materials are overlapped in the range of 1.715 to 1.725 and of 3.60 to 3.65 respectively.
Under magnification test, needle-like inclusion is observed in musgravite at relatively high rate, as well as crystal or liquid inclusions. These inclusions, however, are also seen in taaffeite and they cannot be decisive proofs for distinction. Advanced laboratory techniques are then required.
Raman Spectral Analysis
Raman spectra shows significant difference between taaffeite and musgravite (figure 2). Especially, the positions of peaks around 410cm-1 and 710cm-1 are distinctly different. Stones are separated into two groups by Raman spectroscopy with no one falling in the intermediate region so that distinction can be clearly made.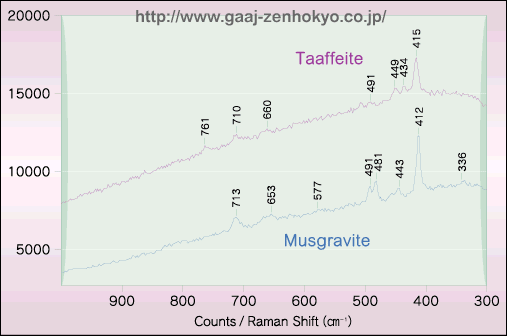 | | |
| --- | --- |
| fig 2F | Raman spectra of taaffeite and musgravite |
EDXRF Analysis
Taaffeite and musgravite have similar chemical composition but their composition ratios are slightly different. We examined whether distinction of them was possible by obtaining and comparing elemental ratio from measurement results using X-ray fluorescence.
In figure 3, trivalent elements Al, Ti, V, Cr and Ga are plotted in a vertical scale, and divalent elements Mg, Ca, Mn, Fe and Zn in a horizontal scale. Taaffeite and musgravite show distribution areas that are clearly separated. Traditionally, contents of Fe and Zn in X-ray fluorescence analysis were used as an identifying clue, but these elements may also be significantly contained in taaffeite and the method could never be assertive. Although strong measurement accuracy in X-ray fluorescence device and sophisticated measurement technique of an operator are required, semi-quantitative analysis that we performed this time with obtaining elemental ratio between divalent and trivalent was proved to be effective.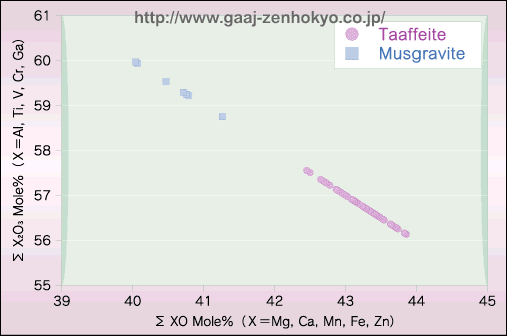 | | |
| --- | --- |
| fig 3F | comparison of elemental ratio in taaffeite and musgravite by EDXRF |
Conclusion
We now know that taaffeite and musgravite, which have been hard to distinguish, can be relatively easily identified non-destructively by combination of semi-quantitative analysis with Raman spectroscopy and with EDXRF. As stated above, only a few examples are reported on musgravite, but eleven out of 85 samples that have been examined at GAAJ laboratory so far are actually revealed to be musgravite, among which the largest piece weighed 4.50ct (one of the largest pieces in the world to the authorfs knowledge). This means, some of taaffeite in the market might be indeed musgravite.
References
1)Lore Kiefert.,Karl Schmetzer(1998)Distinction of taaffeite and musgravite. The Journal of Gemmology, Vol.26 ,No.3, pp.165-167
2)Karl Schmetzer.,Lore Kiefert.,Heinz-jÜrgen Bernhardt(2000)Purple to Purplish Red Chromium-Bearing Taaffeites. Gems & Gemmology spring pp.50-58
3)Karl Schmetzer.,Lore Kiefert.,Heinz-jÜrgen Bernhardt.,Murray Burford.,Dunil Palitha Gunasekara(2005)Iron-and zinc-rich gem-quality taaffeites from Sri Lanka. The Journal of Gemmology,Vol.29 ,No.5/6, pp.290-298
4)Karl Schmetzer.,Lore Kiefert.,Heinz-jÜrgen Bernhardt.,Murray Burford(2005)Two remarkable taaffeite crystals from Sri Lanka. The Journal of Gemmology,Vol.29 ,No.7/8, pp.461-466