Features seen in laser tomography
@@Laser tomograph can observe and record internal tomography at a certain level in a sample by slowly scanning with a narrowed laser beam. With this technique, inhomogeneous of a crystal can be observed three dimensionally (photo 6). Various wavelengths can be selected for a laser source and for this tomography argon ion laser (blue colour) of wavelength at 488nm is suitable. This tomography can clearly detect scattering image such as crystal defect, and moreover, it is expected to observe fluorescent image excited by the argon laser. From our experiments on heating and practical experiences to date, it has been proved that dislocation (linear defect) generated by heating can be easily detected by laser tomography, and also that blue sapphire tents to increase the intensity of red fluorescence by heating.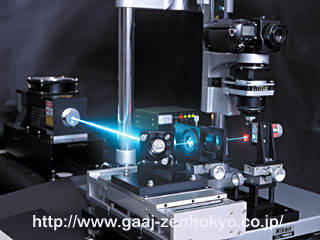 | | |
| --- | --- |
| Photo 6: | Laser tomograph. (Originally developed by GAAJ) |

Heated Synthetic Ruby
Similar to natural corundum, synthetic ruby can be heat treated and this causes alteration on internal feature so that such stone should be carefully identified.
@@In early 1990s, large numbers of heat treated Verneuil synthetic rubies were flown in gem market. Before that, Verneuil synthetic ruby typically showed gcurved linesh clearly under magnification and posed no problem on its identification. However, heating reduced the relief of the curved lines and also induced liquid-like feather in the stone (photo 7), which made its identification by magnification observation more complicated.
@@In the middle of 1990s, heat treated Kashan synthetic ruby appeared on the market (photo 8). These stones were larger that 1 carat and caused problem in their identification so that even an internationally reputed gemmological laboratory made misidentification on one such piece. Identifying features of Kashan synthetic ruby are flux inclusion called gpaint splashh and minute inclusion called gcomet-likeh inclusion, which dramatically change their appearance by heating. The flux (cryolite) used in Kashan synthetic ruby has low melting point and its appearance is quite similar to fused natural crystal inclusion (photo 9). Furthermore, gcomet-likeh inclusion becomes very difficult to be distinguished from natural minute inclusion after heating (photo 10). (Please refer to GEMMOLOGY November 1996 for more detail.)
Recently synthetic rubies showing feature of RamauraTM ruby have been heated and this proposes a new problem in ruby identification. RamauraTM is a synthetic ruby produced by flux method and it has been on sale since 1983. The manufacturer allegedly doped rare earth elements in the synthetic ruby intentionally so that it could be an indication of the RamauraTM origin, cause of this ruby was difficult to be distinguished from natural stone at the beginning of its sale. This year some RamauraTM rubies, which have been heat treated to become more complicated to be identified correctly, started to appear on the market. When fused orange flux is observed under magnification test, it can be an identifying feature of heated Ramaura ruby, however, minute inclusion, uneven colour distribution and growth lines should be carefully observed as they appear quite similar to those of natural ruby (refer to GEMMOLOGY June 2005).


| | |
| --- | --- |
| Photo 7: | A Verneuil synthetic ruby containing liquid-like feather. |

| | |
| --- | --- |
| Photo 8: | A ring with Kashan synthetic ruby. |

| | |
| --- | --- |
| Photo 9: | gPaint splashh seen in a heat treated Kashan synthetic ruby. |

| | |
| --- | --- |
| Photo 10: | gComet-like inclusionh seen in a heat treated Kashan synthetic ruby. |

Summary
In accordance with the revision of regulation on the expression on identification reports in September 2005, individual description about heat treated on corundum started to be made. To identify heated corundum, detailed observation of internal features is very important. As many crystal inclusions have lower melting point than corundum, they may be fused or discoloured by heating. Spectral analyses in UV-visible and infrared regions also give us important information on detection of heating / non-heating status. Especially in infrared spectral analysis, different features are observed in corundum of different localities, so that information on localities and analysis ability of an operator are essential. In addition, heating on synthetic corundum becomes common today, started with Verneuil, followed by Kashan, Chatham and recently RamauraTM, making identification of corundum more complicated.